Reducing Our Environmental Impact
We operate an internal Environmental Management System in an effort to reduce our environmental impact. By understanding how our business activities leave a carbon footprint we can take action to reduce its impact.
Construction
All quality projects start with a good design and it is at this stage that real steps to create an environmentally friendly sustainable development or project can be made.
All of our new build developments are designed and constructed to meet at least level 3 of the Code for Sustainable Homes which ensures that all of our developments have been designed to reduce the building's environmental impact for its whole lifetime.
We work with designers to take a 'fabric first' approach to reduce the carbon embodiment and footprint. This core principle not only help to protect the environment but also reduce the cost whole life cost of the project for both clients and where applicable tenants. We also help the end user to recycle by providing water butts, compost bins and recycling facilities.
On all projects we implement Site Waste Management Plans to set specific targets and waste strategies.
Supply Chain
We integrate local suppliers into our supply chain for the procurement of materials, labour, welfare facilities, skips, temporary works and hire equipment.
We open trading accounts with local independent merchants where feasible while using local branches of national suppliers.
We ensure all sub-contractors are aware of our environmental policy and site specific arrangements before they start work.
Where waste has to be removed from site we source local waste management organisations to minimise transportation costs and environmental impact.
We consider the responsible sourcing of materials on all projects where we are able to influence specification, the use of FSC or PEFC timber, suppliers or manufacturers that can prove Chain of Custody or have an ISO 14001 system in place.
Reduction
Were waste cannot be eliminated we aim to reduce as much as possible, much time and fuel is wasted during the sourcing and delivery of materials and commuting we aim to reduce this in a number of different ways:
Arrange direct to site deliveries and bulk orders to reduce delivery mileage.
Provide large skips to minimise trips again reducing vehicle mileage.
Works are planned on a sensible geographical or street biases to minimise travel distances between properties on the same scheme.
Encourage the use of car pooling with surveyors and liaison officers.
At our premises we use a wood burner to heat our workshop and offices using timber not suitable for recycling, this also helps to cut down the energy consumption at our premises.We recently introduced a "switch it off" initiative at our premises to reduce energy consumption.
The majority of our workforce lives in the Gwent area therefore we try to procure as much work within the area as possible to reduce operating costs and our impact of the environment. The aim is to reduce the amount of time our vehicles and employees are on the road as this also helps to reduce localised congestion, in some cases our employees are able to cycle or walk to work, where this is possible we facilitate this by providing secure tool storage.
We also use suppliers and subcontractors local to the job wherever we can. This not only reduces the carbon footprint of the project but also supports the local community economically.
Recycling
At our premises we have a shredding & briquette machine which we use torecycle waste timber into fuel briquettes or mulch for garden toppings. Timber that is unsuitable for recycling in our shredder is used as fuel in our wood burner to heat workshop.
Waste is segregated on site and sent for recycling, typical materials for recycling include timber, plastics, scrap and packaging.
We aim to minimise all waste disposal to landfill by recycling. Wherever possible we minimise the use of imported materials by re-using inert materials for fill and using crushing plants to turn excavated material into hardcore for sub-bases, where imported aggregates are require we use recycled varieties.
Our consumable suppliers including Travis Perkins and Wolseley provide "take-back" recycling schemes for packaging materials. For external wall insulation we are part of a recycling scheme in which all off cuts of insulation are collected and given back to the manufacturer to be recycled into new sheets.
Ecology
To eliminate any negative effects of our work activities on the local environment we carry out ecology surveys prior to development to identify any existing habitats or ecology on the site.With the results we can plan and implement the correct mitigation strategies before, during and following the construction phase so as not to disrupt or damage the local ecology and environment unnecessarily.
Examples include fitting bat and bird boxes, hibernation chambers for small mammals and/or pondson or near the development and even programming the construction phase around the seasonal movement and behavioural patterns of certain animals.
Example Project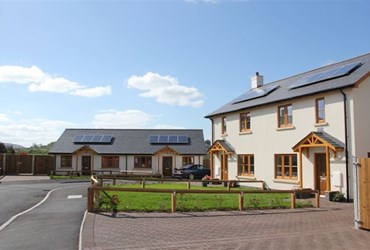 Bwlch, Powys
Read More >